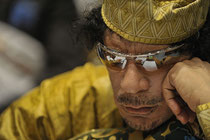 Entailing diverse reactions
As protests in the arab world are now lasting for more than six weeks protester's demands are still the same, but political reactions are getting quite diverse. Happenings in Libya and Jordan may be the most remarkable ones - so I shortly want to assemble some interesting articles.
1. Libya
By now Libyan protests are the most violent with seemingly over 200 deaths until february 20th. Even though Libyan government is cutting off internet and telephone lines the few news trickling outside the country are quite alarming. But violence and trivial propaganda in response to protests urging for more dignity for Libyan citizens might just fuel an even worse conflict in this North African country. In a statement on Libyan television dictator Muammar al-Gaddafi's son Seif made a (risible) proposal for democratic reforms and additionally threated to fight to the last man standing.
Read more on NYTimes.com
2. Jordan
Maybe a more deliberate reaction on protests might be the one offered by the King of Jordan. He wants to complete the democratic reforms his father initiated over 30 years ago. His intent is to establish effective political parties and open competition for Cabinet posts. I am very interested if this step will secure his position sustainably in future.
Read more on KuwaitTimes.net
3. Democracy
In the last article the former UN Under-Secretary General, Sashi Tharoor, offers an interesting comparison with indian democratic history arguing that it is not primarily people's intent to fight against autocracy, but more likely one form of voicing their need for dignity. 
Read more on Project-Syndicate.org